14.03.2016: March 14 to 18, 2016, Design, Automation and Test in Europe (DATE) 2016, Dresden/Germany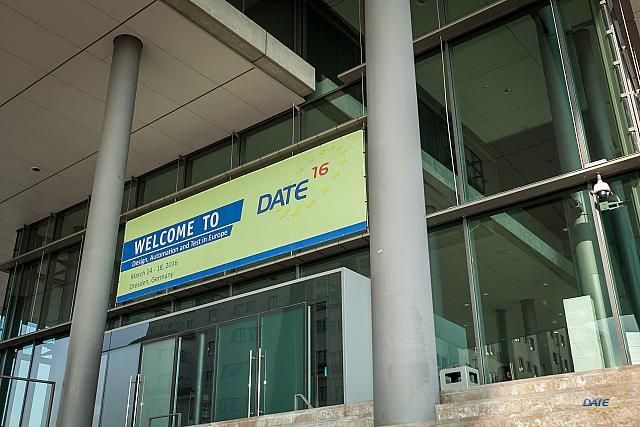 DATE combines the world's favorite electronic systems design and test conference with an international exhibition for electronic design, automation and test, from system-level hardware and software implementation right down to integrated circuit design. This year""s DATE conference was held at the International Congress Centre Dresden, Germany, from March 14 to 18, 2016.
Out of a total of 829 paper submissions received, a large share (42%) was coming from authors in Europe, 29% of submissions are from Asia, 25% from North America, and 4% from the rest of the world. This clearly demonstrates DATE's international character, its global reach and impact.
For the 19th successive year, DATE has prepared an exciting technical programme, says Jürgen Teich, Programme Chair of DATE 2016. With the help of 327 members of the Technical Program Committee, who carried out more than 3000 reviews (about four per submission), finally 199 papers (24%) were selected for regular presentation and 81 additional ones (10%) for interactive presentation.
The conference started on Monday with 10 indepth technical tutorials offered from experts of the industrial and academic worlds on innovative as well as foundational topics related to design solutions, power efficiency, the internet of things, secure systems and testing and diagnosis. In the evening, the well-established PhD Forum allowed selected PhD students from many nationalities to present their PhD thesis work.
The conference was complemented by an exhibition which ran for three days (Tuesday – Thursday), offering a comprehensive overview of commercial design and verification tools including vendor seminars and abundant networking possibilities with fringe meetings. This year, there were dedicated campus booths with focus on major trends shaping the future of microelectronics such as IoT and secure systems, Ultra-Low power technologies (FDSOI), 5G wireless networks, 3D-IC integration and automotive systems. Finally, the conference closed on Friday with 8 attractive Friday workshops.
For more information see http://www.date-conference.com/