Juergen Teich at General Meeting of National Acadamy of Science and Engineering (acatech), on 15 Oct 2019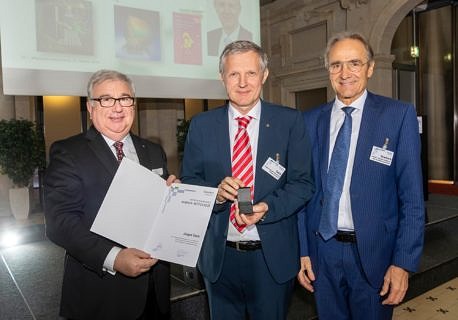 Prof. Dr.-Ing. Jürgen Teich was invited to introduce himself as a new member of the National Acadamy of Science and Engineering (acatech) on the occasion of the general assembly of acatech, on 15 Oct 2019 in the Berlin-Brandenburgischen Akademie der Wissenschaften in Berlin.
The members of the academy are outstanding scientists and scholars from the fields of engineering and the natural sciences, medicine as well as the humanities and the social sciences and admitted on the basis of their scientific achievements. About 500 members of acatech currently work together in projects with experts from science and industry. They are also involved in thematic networks of the academy, discussing specific topics of technical sciences and overarching issues with technological political background.
About acatech – National Academy of Science and Engineering:
Acatech consults independently and comprehensibly, presenting the opportunities and risks inherent to a technological development and showing how the results were obtained and what experts were involved. All working results are published. The principles upon which acatech's consultation is based are set out in guidelines for political and social consultancy. If complied with, these guidelines ensure that both the political echelons and civil society players will receive science-based, independent, politically neutral advice geared at public welfare.